Price Drop
Little Birdie Price Drops are real time, accurate reflections of a product's pricing history. It also showcases any drop in price the product is actually selling for, across a wide range of retailers.
Unlike the Recommended Retail Price or RRP, the Little Birdie pricing graph shows you the real world pricing of a product over a period of time.
When you see a great Price Drop, you can be sure you're looking at legitimate savings that are too good to miss!


Favourites
By clicking on the heart icon, you instantly follow your favourite brands, products, and sales.
This allows our state-of-the-art algorithm to show you an array of tailored offers on the things you need and love, turtle dove.
You also see all the stores, Price Drops and Vouchers you're currently following by clicking on the heart icon next to the search bar.
Notify Me
Little Birdie does it's best to try and find you the best price on everything, every time.
When you select "Notify Me", you receive an alert via email when the price of this product drops.
That way you can swoop in on the perfect offer/price.


Price Trends
Save yourself from being swamped in a "tab-alanche" and never again search multiple sites to find the best price.
Our unique Price Trend graph shows you the Price Drop history of a product.
That way you get an in-depth evaluation into when to wait and when to swoop in on a spectacular offer!


Join The Flock
When you become a Little Birdie member, or "Join the Flock" as we like to say, you unlock exclusive access to fantastic members only benefits.
Simply click "Join/Log in", follow the prompts and start shopping the best offers on the internet!
Oh, and did we mention that it is 100% free to become a member?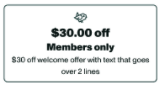 Calendar
Want to make sure you never miss a sale?
Simply add an upcoming sale to your Little Birdie calendar and get notified via email the moment that that sale goes live.
This way you never miss out on that special little something; For that special little price.